For girls, mobile phones that are not portable and often need to be placed in their pockets. This will often be taken out to check if there are any calls or text messages. For male students, even if they put their mobile phones in their trouser pockets, sometimes the phone's ringing or vibration may not be noticed because the environment is too noisy.

Now an LED bracelet called Embrace+, it not only reminds the mobile phone of the dynamics, but also a beautiful fashion accessory. This bracelet has built-in multiple LED color light groups. According to different events on the mobile phone (such as incoming calls, text messages, emails, social media push, etc.), the bracelet will flash different colors to remind the user. The color corresponding to a specific event can be freely set by the application of Embrace+.

Embrace+ just completed its financing plan on Kickstarter on June 9 and received more than $260,000 in funding, far exceeding the established $80,000 target. According to its official website, the wearable device will ship the fastest in September this year, priced at 69 US dollars (limited edition is 99 US dollars). Its application currently has two versions of Android and iPhone, but it is still in the development test phase. It is expected to be released together at the time of official shipment.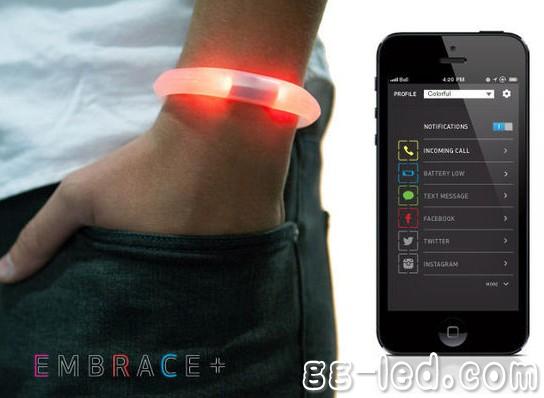 The bracelet is connected via Bluetooth, and the effective range is about 30 meters. However, the development team's introduction on Kickstarter said that because the actual use scenarios vary widely, the distance is generally 10 to 15 meters due to factors such as geography.

In terms of support for social media applications, Embrace+ currently supports mainstream applications such as Twitter, Tumblr, Instagram, LinkedIn, Facebook, and Skype. However, due to compatibility issues with the Bluetooth standard, both Whatsapp and Viber applications are not supported at this time. As the most active mobile instant messaging application in the United States, it is no small regret to be unable to support Whatsapp.

Since the financing on Kickstarter reached $260,000, this enabled the development team's "Stretchgoals" and will add more new features to Embrace+ in the future. These include: SDK, wireless charging and a variety of wristband colors.

Embrace+'s unique invention is really practical and stylish. However, its usage scenarios still have some limitations: in the kitchen, in swimming, in conversation, in the subway, in running, etc. Its design still needs to be improved: not lightweight and slender.

It is worth mentioning that there is another device on the Kickstarter that has a similar function, Blink(1). It's not worn on people, it's connected to a computer via USB, and it can tell people what's happening on the computer in different colors.

Dual Channel Brushless Dc Motor Controller

Dc Controller,Dc Speed Controller,Brushless Dc Controller,Dual Channel Brushless Dc Motor Controller

Jinan Keya Electron Science And Technology Co., Ltd. , https://www.keyaservo.com