The CAN CAN bus design specification has strict regulations on the baud rate tolerance of the CAN node. Each node must have a certain baud rate tolerance, so that the nodes can be combined together to achieve better communication performance. It is easy to see that the bus communication is abnormal and the communication error increases. Specifically, Table 1 shows the GMW 3122-bit width tolerance test condition standard for automotive test standards.

Table 1 GMW3122 bit width tolerance test condition standard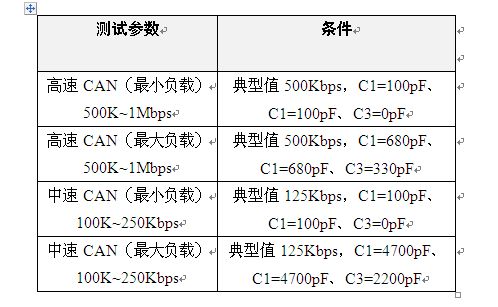 Under the four conditions shown in Table 1, the adaptation conditions of the DUT under test are selected. The DUT is transmitted using the message as shown in Table 2, and the error is passed without indicating the error.

Table 2 Test packets

Therefore, each manufacturer needs to make accurate measurement and determination of its baud rate tolerance before the product joins the bus on the site, ensuring that the node will not cause serious system failure after joining the bus. According to the standard copy, Guangzhou Zhiyuan Electronics Co., Ltd. Improve test accuracy, simplify test methods, improve test efficiency, and design a complete solution using CANScope-Pro bus analyzer and CANScope-StressZ expansion board:

experiment method:

1. After the DUT is powered on, it does not send CAN messages, but can respond to the message normally. CANScope does not check the bus response. Its black test pen (ground) should be shared with the DUT's CAN transceiver. Test the connection as shown in Figure 1.
Figure 1 baud rate tolerance wiring diagram

2. Configure the interference source to be external, as shown in Figure 2, to facilitate the external input interface of Vdis+ and Vdis-. Note that GND is the interface between the Vdis+ and Vdis- external inputs for ground connection to the CAN transceiver.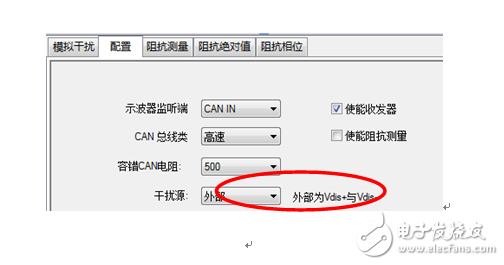 Figure 2 Adjusting the CANScope-StessZ interference source to external

3. As shown in Table 1, connect the C1 and C2 capacitors required by Table 1 between Vdis+ and GND, Vdis- and GND of the CANScope-StressZ connector. Adjust the control panel of CANScope-StressZ to adjust CHL to Table 1. Required C3 capacitor. Then start CANScope-StressZ.

4. Start the DUT and add the message shown in Table 2 through the replay function of CANScope. The sending interval is 100ms, the sending frequency is 1000 times, and then click Send. As shown in Figure 3.





Figure 3 Sending fixed four frames

5. After waiting for the "Step 4" to be sent, click on the frame statistics. As shown in Figure 4. If the success rate is 100%, the node is in a normal state and the operation of "Step 6" can be continued.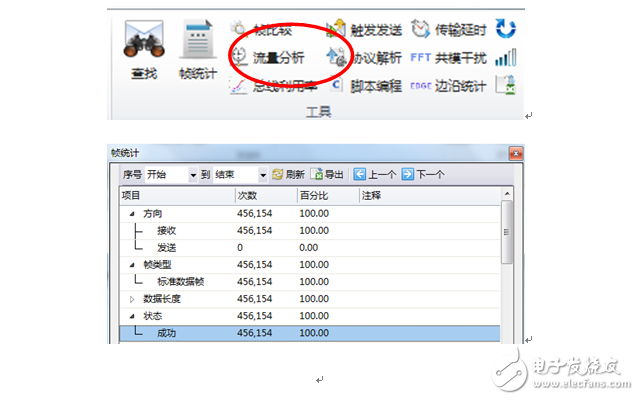 Figure 4 Frame Statistics Success Rate

6. Click the bit width tolerance test in the test as shown in Figure 5. Set the test range (-5% ~ +5%) to start the DUT baud rate adaptation range test and wait for the test result.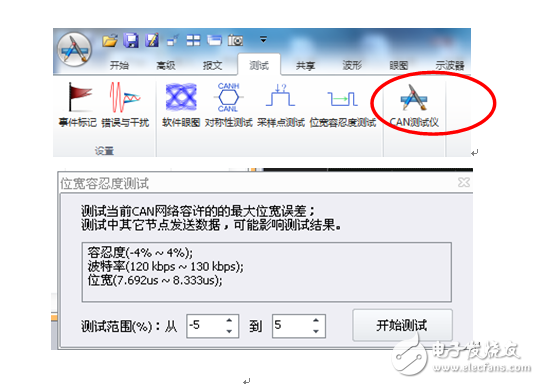 Figure 5 Bit Width Tolerance Test

Test evaluation: According to the specific frame of GMW3122, no error frame, pass the test. In order to ensure the CAN baud rate compatibility of the DUT to other devices, the tolerance in the bit width tolerance test is recommended to be greater than or equal to ±3% (not as a basis for failure).

The CANScope Analyzer is a comprehensive CAN bus development and testing tool that combines mass storage oscilloscopes, network analyzers, bit error rate analyzers, protocol analyzers and reliability test tools. Integration and correlation; redefining the CAN bus development test method, can evaluate the correctness, reliability and rationality of CAN network communication in multiple angles; help users quickly locate faulty nodes and solve various problems of CAN bus application .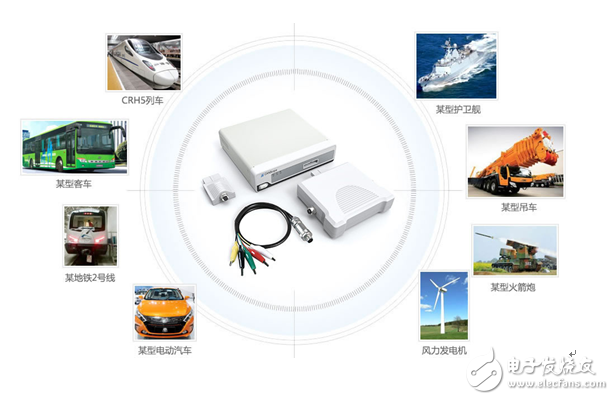 Yuhai piezo materials include : hard piezo material, soft piezo material and lead free piezo material

Soft piezo material exhibits: larger piezoelectric constants, higher permittivity, larger dielectric constants, higher dielectric losses, larger electromechanical coupling factors, low mechanical quality factors, a lower coercive field, poor linearity, and is easier to depolarize. The ideal application of soft piezo materials is sensing needs. Yuhai soft pizeo materials are PZT-5, PZT-5H, PSnN-5 and PLiS-51.

Hard piezo material exhibits: smaller piezoelectric constants, lower permittivity, smaller dielectric constants, lower dielectric losses, smaller electromechanical coupling factors, high mechanical quality factors, a higher coercive field, better linearity, and is harder to depolarize. The ideal application of hard piezo materials is high power transducer needs. Yuhai hard pizeo materials are PZT-4, PZT-8, PCrN-4 and PBaS-4.




Yuhai company developped lead free piezo material BaTiO3 and apply for the Chinese Patent in 2011, to meet the needs of environmental protection in today's society.




Piezoelectric Ceramic material

Properties and Classification
General description of material properties

Material Code

Properties

Application

Soft PZT ceramic

PZT-51

Characteristics: larger piezoelectric constants, higher permittivity, larger dielectric constants, higher dielectric losses, larger electromechanical coupling factors, low mechanical quality factors, a lower coercive field, poor linearity, and is easier to depolarize.

low-power ultrasonic transducers

PZT-52

low-frequency sound transducers

PZT-53

applications with high g coefficient, for example,

PZT-5H

microphones,vibration pickups with preamplifier

PLiS-51

low-frequency vibration measurements

PMgN-51

Hydrophones, transducers in medical diagnostics

PSnN-5

Actuators

Hard PZT ceramic

PZT-41

Characteristics: smaller piezoelectric constants, lower permittivity, smaller dielectric constants, lower dielectric losses, smaller electromechanical coupling factors, high mechanical quality factors, a higher coercive field, better linearity, and is harder to depolarize.

PZT-42

High-power acoustic applications

PZT-43

Hydroacoustics, sonar technology

PZT-82

piezomotor

PCrN-4

PBaS-4

Lead free Piezo Ceramic

BaTiO3

Characteristics: Low density, low curie temperature, lead free.

Ultrasonic transducers suitable for low-temperature underwater, for example Ultrasonic Transducer in fishfinder



Piezoelectric Material,Piezo Ceramic Element,Piezo Electric Cylinder ,Piezo Sphere

Zibo Yuhai Electronic Ceramic Co., Ltd. , https://www.yhpiezo.com